~ Item Description ~
Type:
Original One of a Kind (OOAK ) Mermaid Fantasy Art Doll Sculpture.
Artist's Hand-sculpted Original, Not a reproduction of any kind, Absolutely No Molds Used Guaranteed. From start to finish, all of my art is entirely handmade and from my own original art designs.
**For adult art collectors for display & gentle handling only, not intended for children.
Artist:
Designed, created, and sculpted entirely by hand without the use of any molds by me, Award Winning, New York Area Artist Jill E. Ryan.
Size:
Approximately 5 inches across, 5 inches top to bottom. Please see pictures provided for more information.
Medium:
Mixed Media, Sequins, Clay, Wire.
Hair:
Long and wavy, Premium quality, blonde Angora Mohair, applied by hand, lock by lock.
Artist Jill E. Ryan
Honored to be Awarded: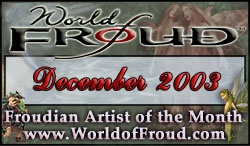 Colors:
Irridescent colors that give the appearance of changing various colors depending on light source and the angle in which held/ viewed.
Silver trim on tail fin. Tail fin is "embedded" with irridescent stars. Every single sequin that you see was applied by me, entirely by hand, one by one. Applying the sequins alone took several hours to do.
Copyright Information:
All Art, Images, Designs, & Content within by Jill E. Ryan Copyright © 2006 Jill E. Ryan All Rights Reserved.
Artist Jill E. Ryan retains all rights to her Art and Images. Rights to Art and Images, including the right to reproduce any art piece and/or or images within by Jill Ryan are not transferred to the buyer with sale. In the event the buyer chooses to resell this piece in the future, these images may not be used.
Art and Images are Protected by Copyright Laws and are not to be copied, reproduced, modified, or used in any form, including reselling, without obtaining expressed written permission from the Artist, Jill E. Ryan. Any Unauthorized Use is Strictly Prohibited by Law.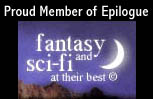 Epilogue - Juried Online Art Gallery